Happy cleaners = Happy clients
So, most cleaning companies are quick to post testimonials from happy clients – sometimes only after 1 clean! We would like you to hear from the cleaners we recommend….
If you've tried to find a cleaner you probably know when you find a good one you want to hang on to them!! You may have got lucky but good reliable cleaners are hard to find. That's why when we find them we do everything we can to ensure their experience of working through Cleanhome is the best it can be.
It's really is simple, happy cleaners = happy clients
Here is what they have to say about us…..
Jackie
I have been working as a private cleaner through Cleanhome for approximately 4 months and already have 5 weekly regular clients. 
I particularly like some of the elderly clients, they really appreciate your hard work.
I find working this way very flexible around my family life or other commitments and reassuring to know I have the back up of a company and insurance in place.
I have found Philippa and Lisa very helpful not only at the beginning but on going as well and have enjoyed working though them so far, they have introduced me to some lovely people. It's not just a cleaning job to me, the feedback I get is that we are making people happy 😊
Katy
I have been working as a private cleaner through Cleanhome since Sep 2018 and would recommend it to other cleaners as I've found the whole thing easy and simple and if I'm offered a job and can't do it then there is no problem with that
I've had most of my clients 2 or more years. I have a mixture of elderly and young working people. I love working for one elderly gent who has r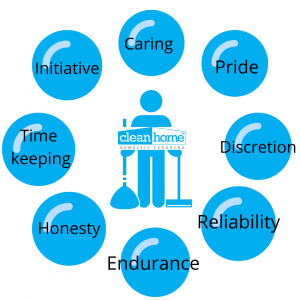 ecently turned 90 yrs old and he loves to chat while I work.
Lindzee
I have used Cleanhome for over a year to build my client base and currently have 4 clients young and elderly, they are all very nice.
They provide good support, easy to contact and I feel safer with the insurance. I would definitely recommend to anyone looking for a flexible job to work hours suited to them.
Jordan
I currently have 4 clients through Cleanhome – I mostly clean for professional families. All my clients have been friendly and forthcoming.
Cleanhome are brilliant for communication between both myself and my clients, and are flexible on both sides to make it work for everyone.
Having insurance through the company is a huge benefit, it gives me reassurance that I won't be hit with a large bill, should an accident occur. It also saves me the hassle of sorting out my own insurance.
I would absolutely recommend Cleanhome to cleaners looking for work, they've been so accommodating to the hours I need. The communication is brilliant and the pay is competitive too.
I honestly can't think of any improvements Cleanhome could make right now!